Furnace, Fire and Forge
Lithgow's Iron and Steel Industry 1874 – 1932
By Bob McKillop
ISBN 0 909340 44 7
Contributions by Ray Christison, Ian Holt, David Jackson, Jim Longworth, Bruce Macdonald, Jeff Moonie, Greg Patmore, Jerry Platt, John Prattis, Don Reynolds, Ian Rufus, Frank Stamford and Alan Watson
This book is the product of a systematic and in-depth research project. It tells the story of Australia's first and only inland heavy industrial centre, from its beginnings with the opening of New South Wales' Great Western Railway into the Lithgow Valley in 1869 and the establishment of the first blast furnace there in 1874, to the final closure of the iron and steel works in 1932.
Furnace, Fire and Forge provides new insights into the pioneers of Australia's iron and steel industry and tells the story of its operations from the perspective of the men (and the handful of women) who toiled at the blast furnaces, the rolling mills, the open-hearth steel furnaces, the collieries and quarries that fed the furnaces, the railways that transported the materials and the administrative offices that supported these operations.
There are separate chapters on the mines and quarries that provided raw materials to the works; and the industrial railways that transported the materials around the site.
The concluding chapters review the lessons that have emerged from the Lithgow experience and how the community responded to the closure of its 'life blood'.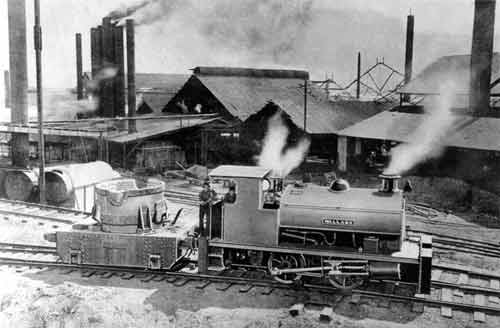 One of the twenty locomotives used by G&C Hoskins and its predecessors at Lithgow steel works and associated plants. The works railways, and those of the limestone quarries, iron ore mines, and collieries which supplied the raw materials, are described and illustrated in the book.
Hard cover, 320 pages, A4 size, over 250 photographs, maps, diagrams, references, bibliography, and index.